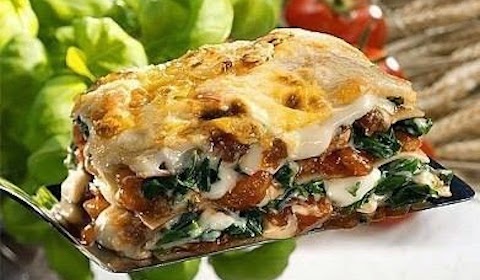 Veggie lasagna
Ingredients
2 small zucchini (12 ounces total), trimmed 1 package (8 ounces) sliced mushrooms 1 sweet red pepper, seeded and diced 1 container (15 ounces) part-skim ricotta cheese 1 package (8 ounces) reduced-fat shredded mozzarella or Italian-blend cheese 1/4 cup packed parsley leaves, chopped 2 cloves garlic, chopped 1/4 teaspoon black pepper 1 jar (26 ounces) roasted garlic pasta sauce 8 traditional lasagna noodles (uncooked), broken in half 1/4 cup grated Parmesan cheese
Directions :
1. Coat slow cooker bowl with nonstick cooking spray.
2. Insert slicing disk into food processor and thinly slice zucchini (or slice by hand). Transfer to a large bowl and add mushrooms and sweet pepper. In medium-size bowl, combine ricotta, 1 cup shredded cheese, parsley, garlic and black pepper.
3. Spread 1/2 cup pasta sauce over bottom of slow cooker. Top with 2 noodles (4 halves), overlapping as needed. Blend 3/4 cup pasta sauce with 1/2 cup water and set aside. Stir remaining sauce and 2 tablespoons of the Parmesan into zucchini mixture. Layer half of the zucchini mixture over noodles. Top with 2 more noodles (4 halves). Spread with ricotta mixture and top with 2 more noodles. Finish layering with remaining zucchini mixture and remaining 2 noodles. Spread with reserved sauce-water mixture.
4. Cover and cook on HIGH for 4 1/2 hours or on LOW for 6 1/2 hours, adding remaining 1 cup shredded cheese and 2 tablespoons grated Parmesan for last 10 minutes of cook time. Let stand 10 minutes before serving.
NUTRITION INFORMATION
Per Serving: cal. (kcal) 441, Fat, total (g) 15, chol. (mg) 45, sat. fat (g) 8, carb. (g) 49, fiber (g) 5, pro. (g) 29, sodium (mg) 860, Percent Daily Values are based on a 2,000 calorie diet